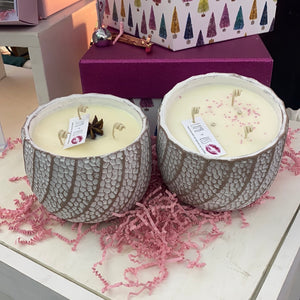 40oz Coffee Table Candles 
200 hour burn time 
They make a stunning impact! Gift or treat yourself! 

Great to have lit at your Holiday Party!
Lamb + Kiss candles are handmade from premium soy wax, 100 percent cotton wicks and a combination of all natural essential oils which are carefully combined with perfume-grade fine fragrance oils which are paraben and phthalate free.
Each candle is poured by hand in small batches from our home studio with the utmost of care and attention to detail. 
We are located in Penetanguishene, Ontario Canada.
Each candle is hand poured in small batches. They make great House Warming gifts and for special holidays like Mother's Day, Birthdays, Anniversaries, Christmas. Or just because!
Benefits of Soy Candles:
Free from pesticides & herbicides.
Non-toxic
Biodegradable
Burns 3 times longer than paraffin wax candles.
Burns clean leaving NO SOOT
Cleans up with soap & HOT
Thank you for your support and shopping with us!